GROOMING YOUR YORKSHIRE TERRIER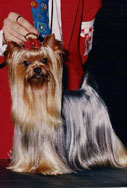 Any Yorkie lover sooner or later has to come to grips with the issue of coat care. The long luxurious tresses of the champion Yorkie are not easy to reproduce in the average home setting. Most will prefer to adopt a lower maintenance clip such as the puppy cut or the Schnorkie look, which is really just a modified Schnauzer cut.
Whichever style Yorkie you prefer, the important thing is to introduce your puppy early and often to the concept of bathing and brushing. For the first six months, don't let a day go by without at least a quarter hour of brushing, and it is even better if you can actually shampoo your bundle of fur several times a week. The first few bathing adventures will have you wondering if these little critters are actually part cat, but gradually they do become accustomed to the event and their behavior will improve dramatically.
For those wishing to grow their Yorkie's coat out, there is no better advice than the step-by-step instructions on Cookie Rogan's website, a portion of which I have reproduced here. Visit Cookie's site for lots more in-depth coat handling and general Yorkie care.
For the average Yorkie owner, it is enough to know that a daily brushing and a weekly bath with a high-quality dog shampoo will keep your Yorkie gleaming. If you can also shave both sides of the top one-third of the Yorkie puppy's ears with a Wahl Tidbit and carefully trim the nails yourself, you will save yourself a bundle on groomers. For complete illustrated adult dog toenail trimming instructions visit WSU Veterinary Medicine College's Pet Health Topics. However, for a Yorkie puppy's tiny nails, don't bother to purchase any special equipment. Use a regular human toenail clipper available at any chain drugstore.
Before attempting to trim your puppy's nails, use your Tidbit clipper to trim away the hair from its toes. You will have a lot more confidence and do a much better job if you can actually see the toenails, unobstructed by hair! Keeping the hair trimmed away from the toes and pads of the feet also means your puppy (and your house) will stay cleaner, because there will be nothing for dirt and debris to stick to and get carried into the house on.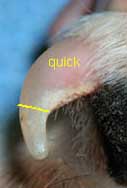 Since Yorkies have black toenails, it is difficult to see where the quick begins. However, if you look at this photograph, you will see that the nail begins to curve right where it should be trimmed. As long as you cut off only the curved portion of the toenail you will never cut into the quick.