PREVENTION IS THE BEST MEDICINE
Your Yorkie puppy is the product of careful breeding and should remain healthy for at least a dozen years, if not more. Just like you, your Yorkie needs a healthy diet, plenty of exercise and regular checkups. Maintain your vet's recommended schedule for vaccinations and checkups to ensure that your puppy will be with you for its full life expectancy of 15 plus years.
THE FIRST YEAR: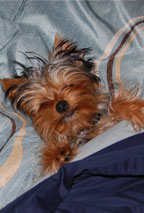 ADEQUATE REST
A Yorkie puppy is a baby, and for the first year, you will want to ensure that your baby gets plenty of rest. It's normal to want to take a Yorkie puppy everywhere with you and to let everyone hold it and play with it. But a Yorkie puppy will not thrive unless it gets regularly scheduled sleep periods.
PROPER NUTRITION
Feed your puppy an enriched puppy kibble for the first year of its life to maximize healthy growth and performance.
Say no to table scraps.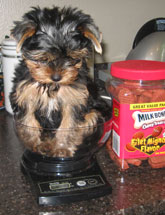 Hudson looks a little worried about his weight gain.
PLENTY OF EXERCISE
A slim, trim dog is a happy dog.
Plenty of exercise and a balanced diet will go a long way toward keeping your dog healthy.
Adequate exercise also promotes mental well-being and prevents the development of many behavioral problems.
During the hot summer months, only walk or romp with your Yorkie in the cooler morning and evening hours.
SAFE ENVIRONMENT
Before bringing your Yorkie puppy home you will want to puppy proof your home:
Be alert for hidden dangers lurking everywhere in your home.
Learn to look at familiar objects and furnishings through the eyes of your puppy.
Dangling cords, sharp tools, small objects left on the floor or in reach of a puppy can all lead to trouble.
Pick up and put away anything that could be dangerous to a curious or teething puppy.
Restrict access to toys that can be chewed up easily or that are small enough to get stuck in the airway if swallowed.
To prevent choking, make sure food is cut either in large pieces that cannot be swallowed whole, or in very small pieces.

Dusty and Twigs' mommy, Coco.